On Saturday, October 16th Adam Revell invited neighbors over to tour his composting systems. Adam recently completed the Master Composter Certification through Denver Urban Gardens.
Composting is a great way to live sustainably. It diverts waste from landfills that would add methane to the atmosphere and instead builds healthy soil for your yard.
Worm Composting
The first compost system Adam showed us was worm composting, also known as vermicomposting. He had converted old dresser drawers into compost bins. This uses red wriggler worms to break down a mixture of damp paper and leaves mixed with food scraps. Vermicomposting is a great option for people that want a small compost set up that can be done indoors, year-round.
If you're interested in starting a worm compost bin, this tutorial is a great start – How to Create and Maintain an Indoor Worm Compost Bin
And of course, you can reach out to us at the South of 6th Sustainable Neighborhood group by emailing us at southof6th@gmail.com
Three Bin Composting
The second composting system Adam has running is a three bin compost system.
This involves three bins. The first bin mixes "browns" (hay, leaves, etc.) with greens (chopped up grass, non-seed weeds, food scraps). After the pile has decomposed partially, it is moved to the second bind. Once the contents of the second bin are mostly composed they are moved to the third bin.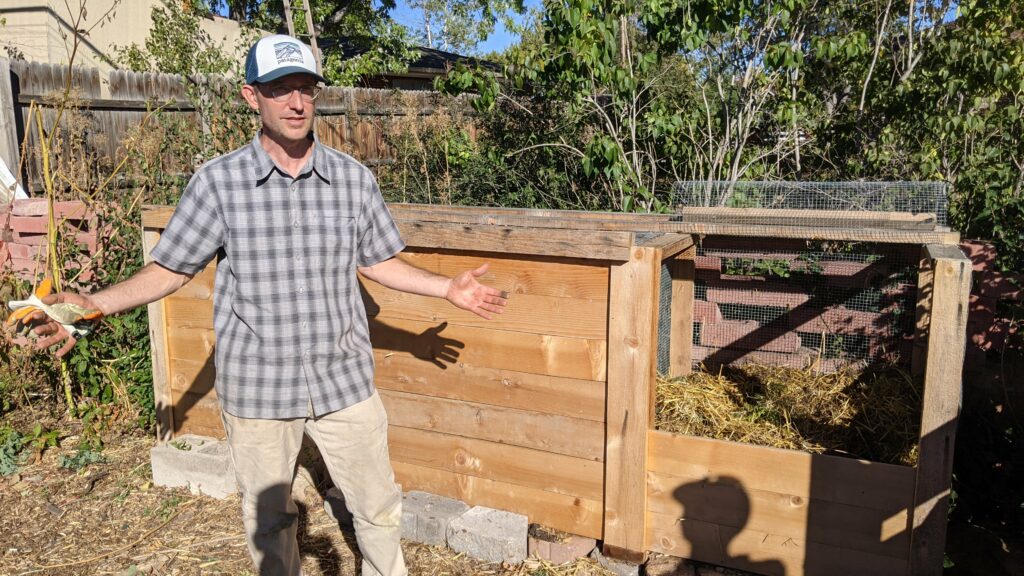 To get started with this composting method, check out this How to Build A Compost Bin For Your Home Guide or once again email us. 🙂
Neighbors Sharing Resources
A great thing about these events is how it fosters not only an exchange of ideas, but of help and materials. People left with fresh bags of compost and one neighbor gave Adam some leaves he'd just bagged.
Keep an eye out for the next event or if you have something to offer, let us know. Hosting these events are a lot of fun!